Feel free to copy/paste these images if you wish to reuse them. They are CC-BY licensed.
Overview
Open Energy is a service that makes it easy to search, access and securely share energy data. It covers both Open Data and commercial Shared Data where access requires control. It has two service components: Search and Access Control, and a process whereby the needs of the market can be developed into Codes of Practice.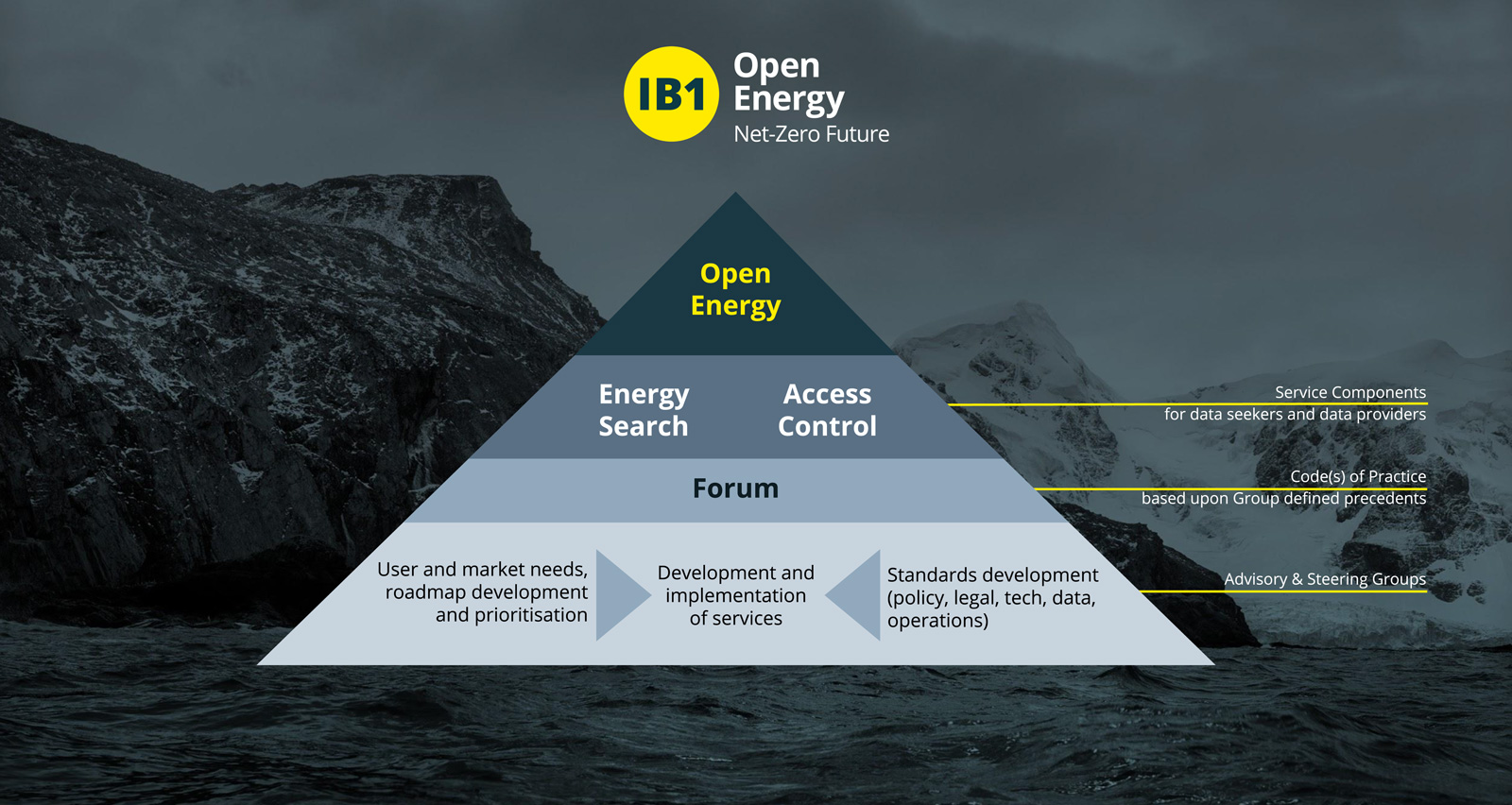 What does success look like?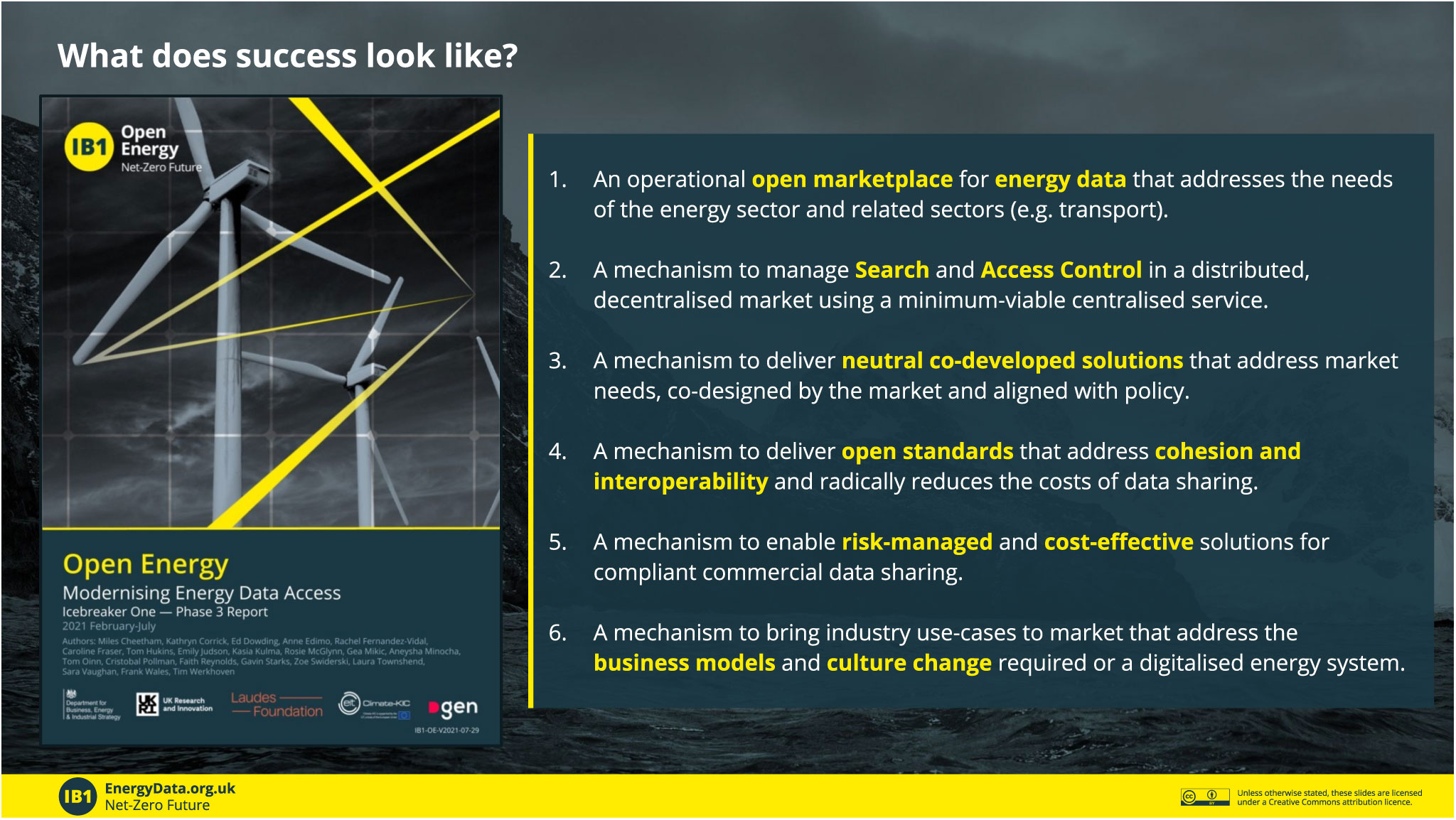 An operational open marketplace for energy data that addresses the needs of the energy sector and related sectors (e.g. transport).

A mechanism to manage Search and Access Control in a distributed, decentralised market using a minimum-viable centralised service.

A mechanism to deliver neutral co-developed solutions that address market needs, co-designed by the market and aligned with policy.

A mechanism to deliver open standards that address cohesion and interoperability and radically reduces the costs of data sharing.

A mechanism to enable risk-managed and cost-effective solutions for compliant commercial data sharing.

A mechanism to bring industry use-cases to market that address the business models and culture change required for a digitalised energy system.

REPORT: https://energy.icebreakerone.org/report-meda-3/
What is in-scope?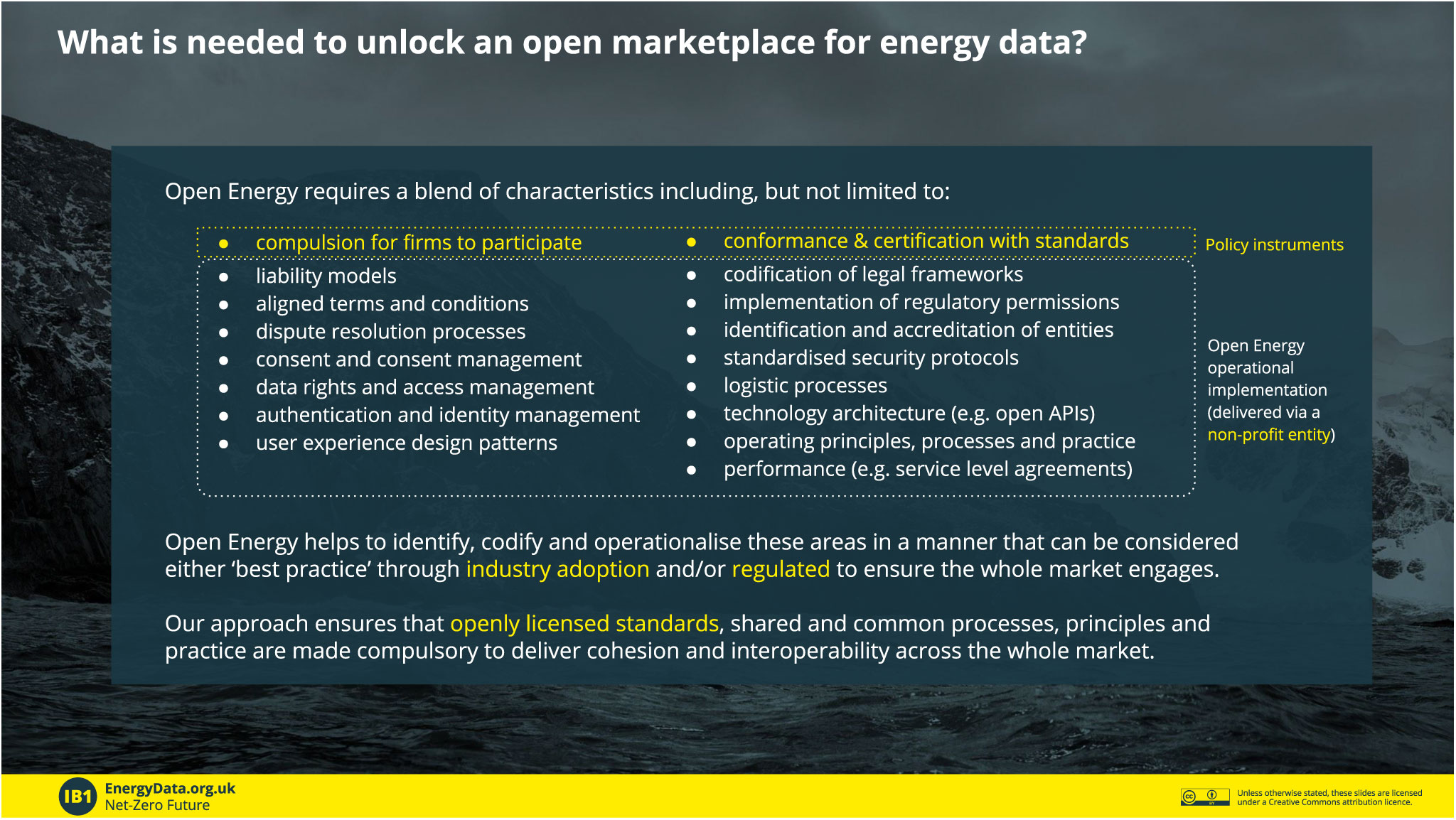 We include the following in our operational exploration and implementation:
liability models
aligned terms and conditions
dispute resolution processes
consent and consent management
data rights and access management
authentication and identity management
user experience design patterns
codification of legal frameworks
implementation of regulatory permissions
identification and accreditation of entities
standardised security protocols
logistic processes
technology architecture (e.g. open APIs)
operating principles, processes and practice
performance (e.g. service level agreements)
Things that are in the remit of policy/regulation include:
compulsion for firms to participate
conformance & certification with standards
Open Energy helps to identify, codify and operationalise these areas in a manner that can be considered either 'best practice' through industry adoption and/or regulated to ensure the whole market engages. Our approach ensures that openly licensed standards, shared and common processes, principles and practice are made compulsory to deliver cohesion and interoperability across the whole market.
What is included and what is not?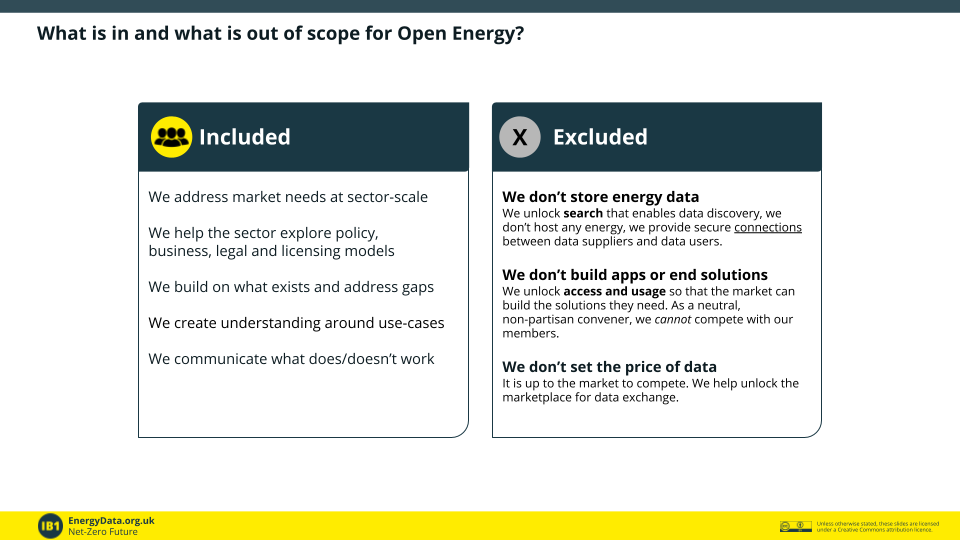 Included
We address market needs at sector-scale
We help the sector explore policy, business, legal and licensing models
We build on what exists and address gaps
We create understanding around use-cases
We communicate what does/doesn't work
Excluded
We don't store energy data: We unlock search that enables data discovery, we don't host any energy, we provide secure connections between data suppliers and data users.
We don't build apps or end solutions: We unlock access and usage so that the market can build the solutions they need. As a neutral, non-partisan convener, we cannot compete with our members.
We don't set the price of data: It is up to the market to compete. We help unlock the marketplace for data exchange.
What does the UK ecosystem look like?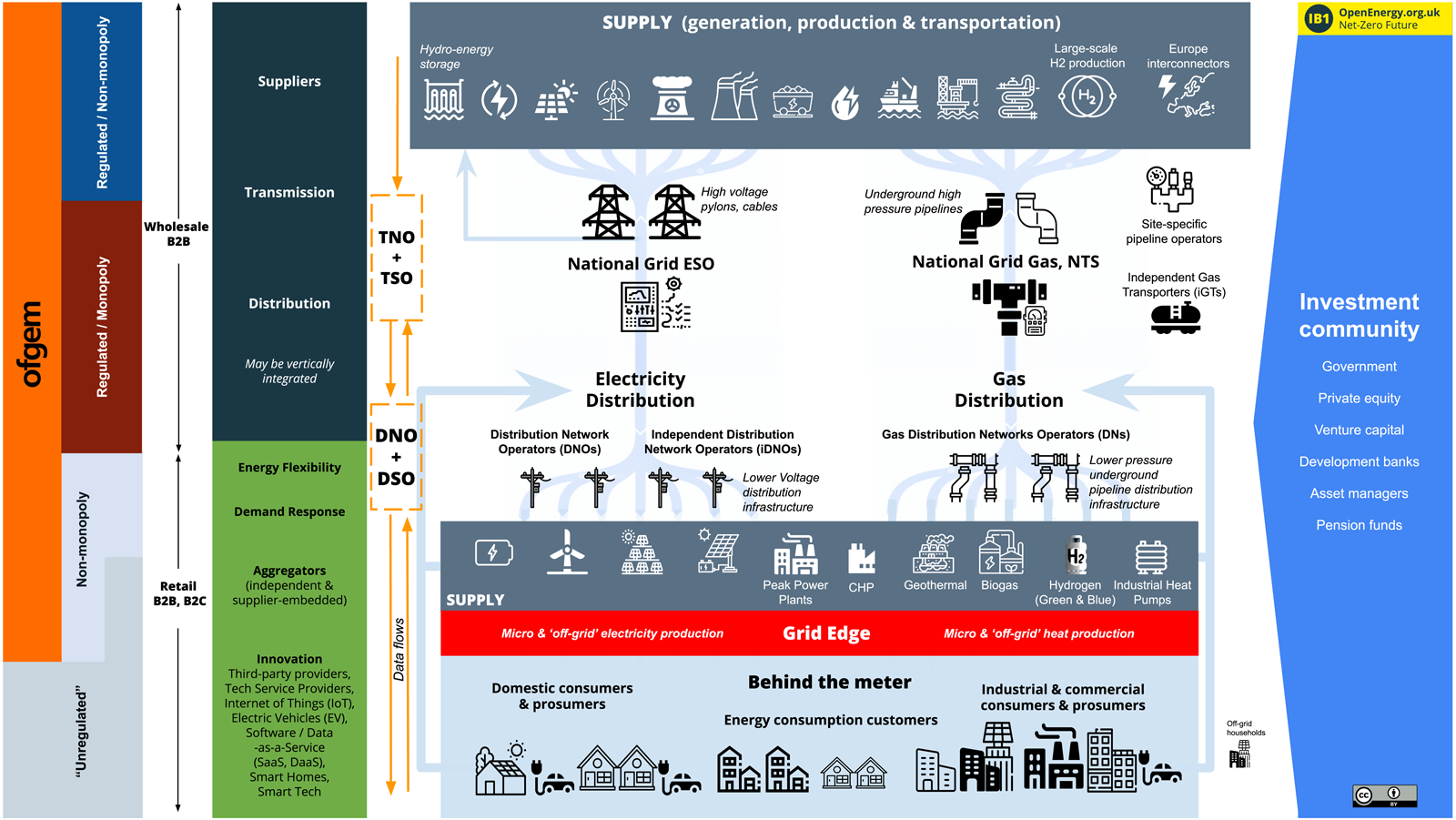 How is Open Energy linked to UK national and international priorities?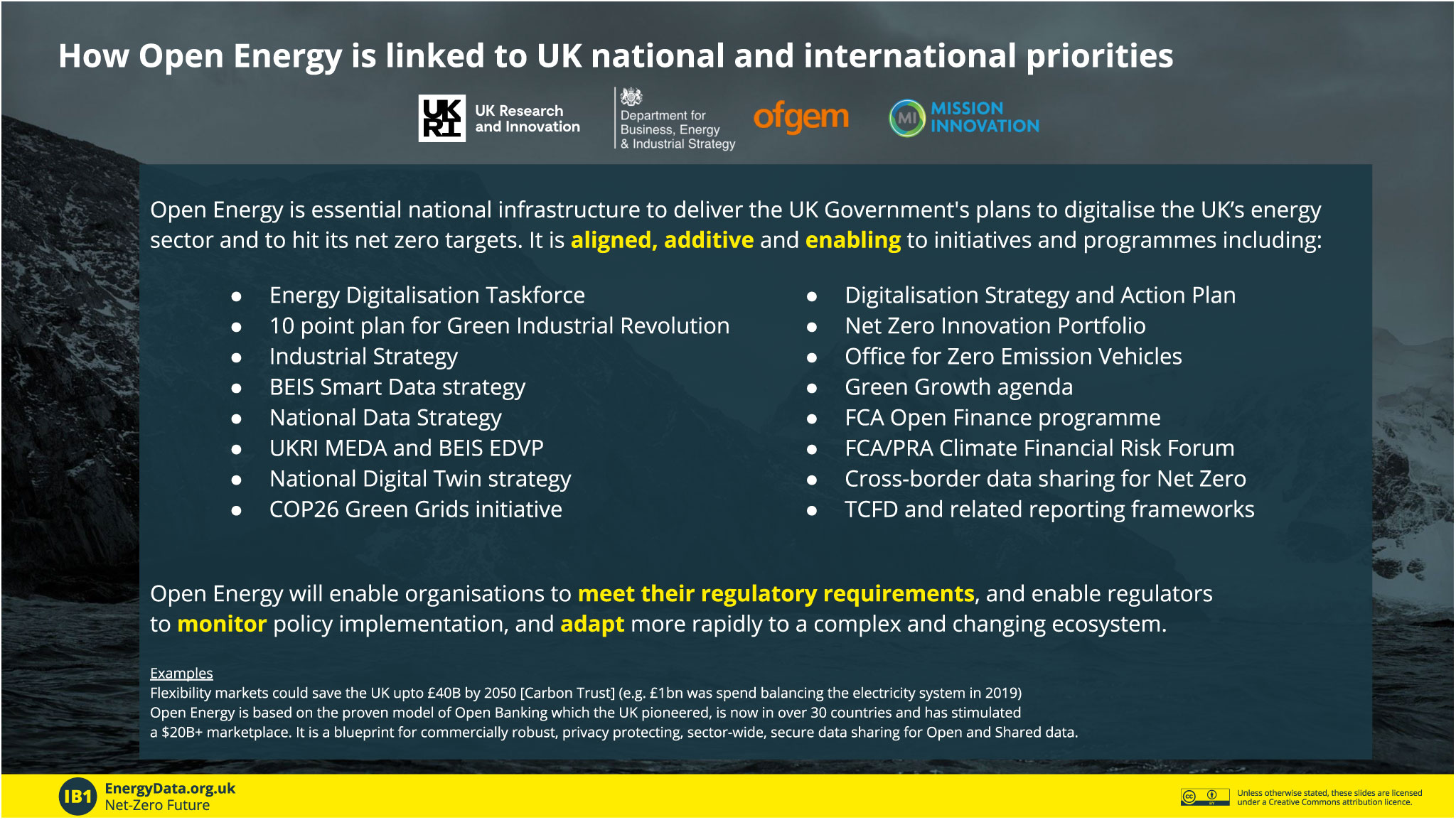 Open Energy is essential national infrastructure to deliver the UK Government's plans to digitalise the UK's energy sector and to hit its Net-zero targets. It is aligned, additive and enabling to initiatives and programmes including:
Energy Digitalisation Taskforce
10 point plan for Green Industrial Revolution
Industrial Strategy
BEIS Smart Data strategy
National Data Strategy
UKRI MEDA and BEIS EDVP
National Digital Twin strategy
COP26 Green Grids initiative
Digitalisation Strategy and Action Plan
Net Zero Innovation Portfolio
Office for Zero Emission Vehicles
Green Growth agenda
FCA Open Finance programme
FCA/PRA Climate Financial Risk Forum
Cross-border data sharing for Net Zero
TCFD and related reporting frameworks
Open Energy will enable organisations to meet their regulatory requirements, and enable regulators
to monitor policy implementation, and adapt more rapidly to a complex and changing ecosystem.
What do we mean by an 'ecosystem'?